Promote unity within your company with corporate embroidery.
When you look at a sports team, you first notice the jerseys or team uniforms. Instead of a group of mismatched individuals, it makes the group look more like one cohesive unit. If you run a business of your own, you likely want the same cohesiveness for your team of employees. Just because they aren't playing a sport together doesn't mean they don't need to be unified as a team.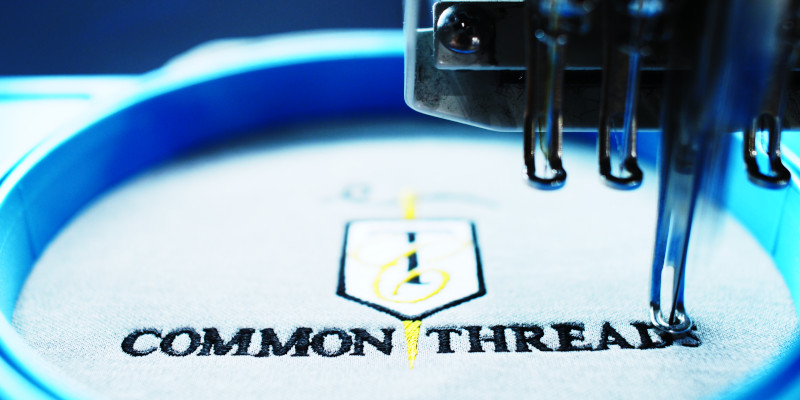 We can provide your employees with the look of unity with our corporate embroidery services. If you are in the Charlotte, North Carolina area, you can rely on us at Common Threads Embroidery and Apparel for our corporate apparel services.
Our corporate embroidery can not only create a look of unity for your employees, but it can also make them stand out more to your customers. We use top-quality embroidery machinery, threads, and fabrics to create the best possible designs and apparel to meet your needs. That means both your customers and employees are sure to be impressed with the results. We can handle any need you may have for your embroidery design, whether you want to go with the team jersey approach with the name embroidered on the back or a classier approach with the logo printed on the chest pocket of a polo. We also offer a variety of colors.
Our founder has extensive experience in the textile industry, and our graphic designers are highly experienced. When you send over your preferred design or logo for your corporate embroidery, we will work hard to digitize the design and translate it into threaded embroidery just how you imagined it to look. We will also perform a final quality check to ensure the product is up to the highest standards before delivering your order.
Promote unity within your company with our corporate embroidery services. Give us a call to start you order today.
---
At Common Threads Embroidery and Apparel, we offer corporate embroidery services for customers from Spartanburg, Simpsonville, Mauldin, Wellford, Greenville, Anderson, Rock Hill, Fort Mill, and Greer, South Carolina, as well as Gastonia, Catawba, Lincolnton, and Greer, Charlotte, North Carolina.