Our team offers high-quality embroidery services to help you customize your apparel.
Embroidery has come a long way from hand-sewn tapestries. Today's modern technology allows us to create detailed designs and crest multiple units in minutes instead of days. Common Threads uses 24 state-of-the-art Barudan embroidery machines capable of turning out 5,000 pieces of apparel and headwear each day.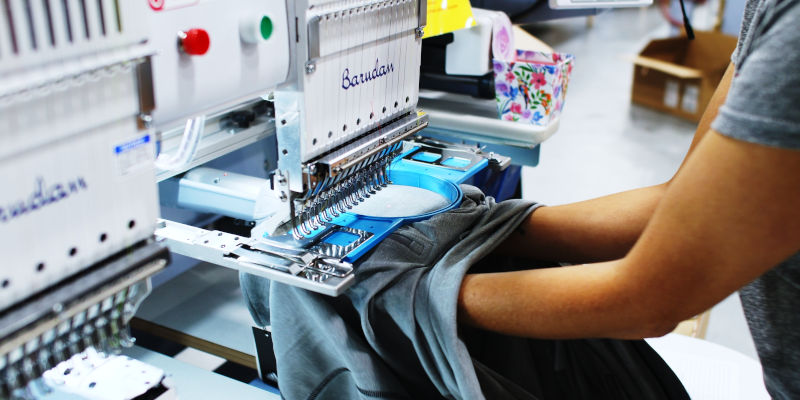 While that is a large number, we're not reserved for only large runs. In fact, our ability to scale orders from 10 to 999+ pieces is one of our best attributes. This means Common Threads is uniquely positioned to help both small companies looking for some matching apparel and large companies interested in a uniform fulfillment program.
One of the most popular uses for embroidery today is to customize items such as t-shirts, polos, jackets, and other apparel to give them a more personalized or professional look. If you are looking for embroidery services for any reason, you can turn to our team at Common Threads Embroidery and Apparel to get the professional results you deserve.
We use the latest in embroidery technology to deliver detailed, high-quality results, and our team can also help you during the design stage as well. When you come to us, we will help you finalize your design and then use our equipment to stitch it into your item of choice.
We can create everything from team jerseys and jackets to work uniform polos and more, and we can put just about any design you want on your item, including company logos, employee names, and personal monograms. If you have an embroidery project in mind, we encourage you to give us a call to find out how to get started.
Our team is proud to serve the community here in the Spartanburg, South Carolina area, and we want to help you create high-quality custom clothing. If you want to design a t-shirt, uniform, or anything else, we encourage you to give us a call to find out more about our embroidery services.